With increasingly school boards providing subject choices and vocational education early, Grade 8 is the ideal class for starting to think about a career path to pursue. While most other tests provide specific top 5 or 10 specific occupations, the Career Spark Lite for Grade 8 streamlines the decision making process itself. The results will provide you with broad level career paths and clusters most suited to you as per your psychometric profile. Your results will provide an easy way for you to explore the world of work comprehensively and decide on broad level subjects to pursue, without having to make rigid and specific career choices so early in one's life.
Read on for more details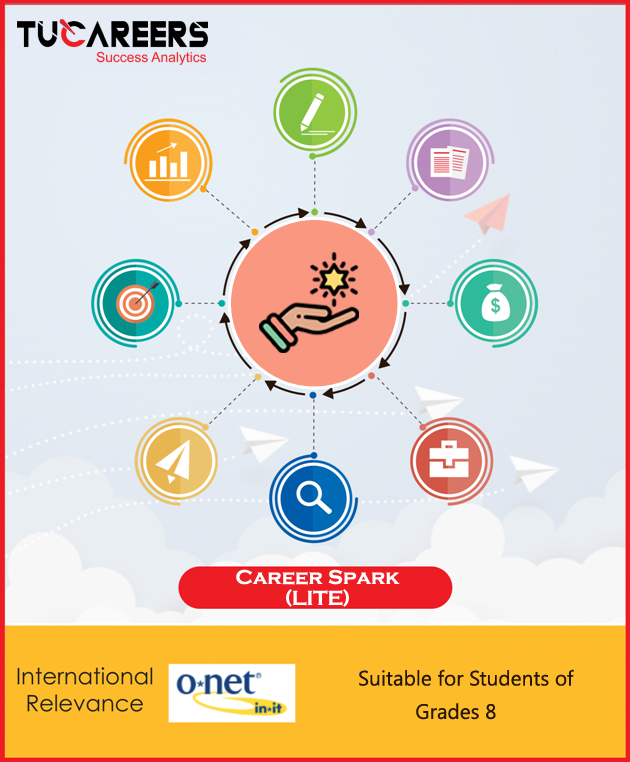 Career Guidance after Class 8th
Career Spark (Lite) is suitable for students in Grade 8 or below
It profiles an individual on the basis of the self-assessment of Interests, Personality and Abilities.
Students will be provided with recommendations on suitable career paths and clusters which will provide an understanding of their fitment across different careers in the world of work.
The report also provides information on linked educational options which will help the students in making the correct subject choices in Grade 10 and later.
The assessment is powered by data from O*NET, the largest open source career database in the world, and provides very accurate recommendations as the candidate's profile is statistically matched with the profiles of successful people in similar careers.
Career Test duration is 15 to 20 minutes
Why Career Guidance after Grade 8th ?
Kids today are coping with tremendous pressures. Thanks to social media, their lives are under constant scrutiny, and the need to look good is all pervasive. Added to that is the extreme level of competition in all avenues, and the pressure to get high grades and GPAs. And through it all is the weight of their parents' expectations. Little wonder then that career planning isn't a task they can undertake with ease at this stage. What's important is for both the child and the parents to understand his or her capabilities, interests and other unique factors that not only shape the personality, but also have a long term effect on success and tenure in a career.
Most people do not consider Grades 8 the right place to start planning for their careers. Some find it too early to start thinking and lose out on valuable time, while a large number have already been enrolled in preparatory classes for various entrance exams, which they may not necessarily have the aptitude for. Research has shown that Career guidance for grade 8th students through the right career test can go a long way in giving students a direction, if not a career plan.
Our career guidance model includes a comprehensive psychometric evaluation of your interests, personality and a number of other factors, allowing our counselors to provide you with the best career advice. An early start in the right direction will keep them focused and motivated, and moving along the right path. They will have adequate time to fully research and explore study options, colleges and skills they will require in the future. And most importantly, it will reduce the pressure to perform in a direction contrary to their abilities, and have a positive impact on their mental health as well.
Most of our career tests are free and come with a summary report, which provides adequate help and guidance, For more details and support in their decisions, one can purchase a Detailed report and buy an online career counselling session.
We believe that some tweaking of choices may be required at each critical stage for the optimal subject, course, career and role choices. Since the need extends across an individual's lifetime, so does our framework, with different tests catering to each stage. Moreover, an individual can always come back to retake an assessment at any later time.
Given our very strong research basis and use of advanced analytics, you cannot go wrong by taking one of our test for career guidance after Class 8th, Class 10th and class 11th or 12th. Refer to the career tests toolbox for a gamut of other career, personality and aptitude tests