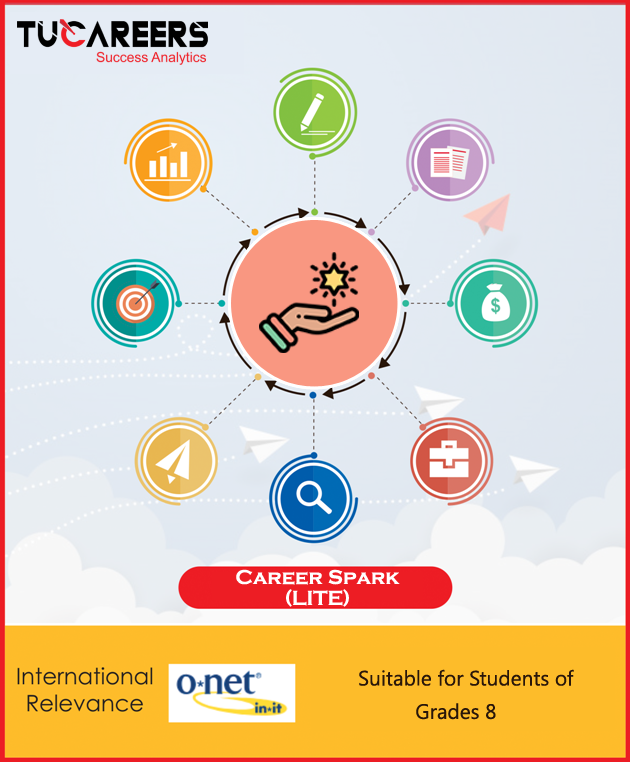 | | |
| --- | --- |
| Summary Report | $0 |
| Detailed Report | $15 |
| Detailed Report + Counseling | Coming Soon |
Career Guidance for Class 8th
Career Spark (Lite) is suitable for students in Grade 8
It profiles an individual on the basis of the self-assessment of Interests, Personality and Abilities.
Students will be provided with recommendations on suitable career paths and clusters which will provide an understanding of their fitment across different careers in the world of work.
The report also provides information on linked educational options which will help the students in making the correct subject choices in Grade 9 and 10.
A free summary report is available at the end of the assessment.
A student has the option of purchasing a detailed report and also scheduling a guidance session with one of our counselors, post completion of the test.
The assessment is powered by data from O*NET, the largest open source career database in the world, and provides very accurate recommendations as the candidate's profile is statistically matched with the profiles of successful people in similar careers.
Duration of test is 15 to 20 minutes
The world of work is fast changing and students, now more than ever have to be proactive in choosing what they want to do in their careers. Making this decision requires one to have an understanding of their strengths & weaknesses and also knowing what they're interested in and passionate about. In addition, given the fast pace of technological advancements, people also need to have a clear idea about upcoming careers, and those that will soon become obsolete.
All of us struggle with major career decisions at critical stages of our school life, especially after class 8th, 10th and 12th. Research has shown that a nudge in the right direction from the results of a career guidance test, and mentoring by a career counselor can go a long way in giving you a direction and a career plan. Choosing a stream and the right combination of subjects, selecting appropriate courses in graduation, and even later, in choosing the right role in your career, everything requires the right guidance. Our career guidance framework includes a comprehensive psychometric evaluation of your interests, personality and a number of other factors, allowing our counselors to provide you with the best career advice.
We believe that some tweaking of choices may be required at each critical stage for the optimal subject, course, career and role choices. Since the need extends across an individual's lifetime, so does our framework, with different tests catering to each stage. Moreover, an individual can always come back to retake an assessment at any later time.
Most of our career tests are free and come with a summary report, which provides adequate help and guidance, For more details and support in their decisions, one can purchase a Detailed report and buy an online career counselling session.
Given our very strong research basis and use of advanced analytics, you cannot go wrong by taking one of our test for career guidance after Class 8th, Class 10th and class 12th.