Perhaps the most confusing decision in any individual's life is what to do after class 10? The choice of stream at this point sometimes shapes the decisions for years to come, and have long lasting consequences on a student's life. While most other tests provide specific top 5 or 10 specific occupations, the Career Spark Basic for Grade 9 - 10 streamlines the decision making process itself. The results will provide you with broad level career clusters and pathways most suited to you as per your psychometric profile. Your results will provide an easy way for you to explore the world of work comprehensively and decide on the stream and subjects to pursue, without having to make rigid and specific career choices so early in your life.
Read on for more details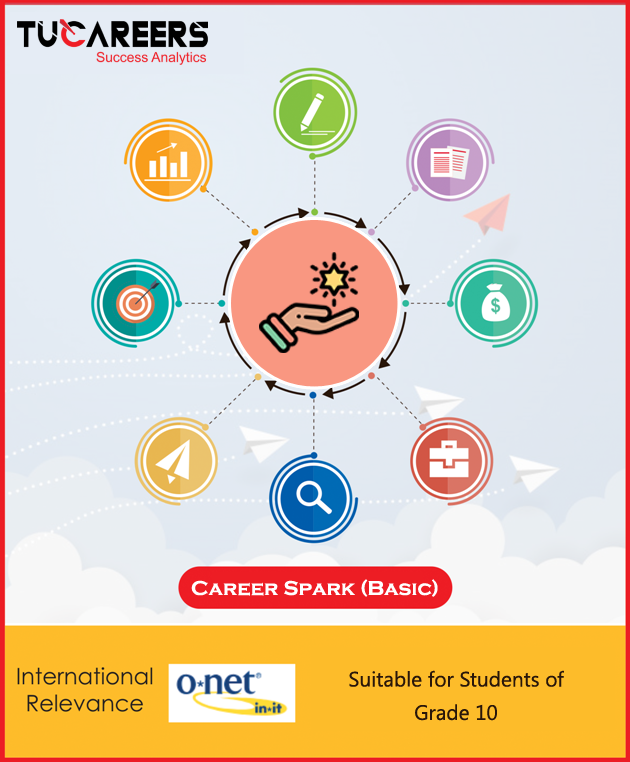 Career Guidance after Class 9th - 10th
Career Spark (Basic) is suitable for students in Grade 9 - 10
It profiles an individual on the basis of the self-assessment of Interests, Personality and Abilities.
Students will be provided with recommendations on suitable career paths, clusters and pathways, which will provide an understanding of their fitment across different careers in the world of work.
The report also provides information on linked educational options which will help the students in making the correct subject choices in Grade 11 - 12 and later
The assessment is powered by data from O*NET, the largest open source career database in the world, and provides very accurate recommendations as the candidate's profile is statistically matched with the profiles of successful people in similar careers.
Career test duration is 20 to 25 minutes
Why Career Guidance after Grade 9th & 10th ?
There are so many choices that an individual has to make at this stage. The broad level career plan in your head will determine which stream and subjects you choose. For international boards, this choice is even more confusing, as you have a wider array of subjects to choose from. Of course, parents' opinions play a major role in these choices, as does the influence of friends, and more recently the choice of schools students will want to apply to for their bachelors.
But the factor that should be most important while making these choices, sometimes gets lost amidst the plethora of other considerations. The choice of a stream, and related subjects should be based on a career path and an in-depth understanding of self, knowing your capabilities, and strengths and weaknesses. There's no point in pursuing a popular career simply because others are doing it, or because it's being suggested to you.
The best way to go about this decision is to take our Career test for 9th & 10th students, which will analyze you on a wide range of psychometric traits, including your interests, abilities, personality etc. In case needed it allows our counselors to provide you with the best career advice as well.
We believe that some tweaking of choices may be required at each critical stage for the optimal subject, course, career and role choices. Since the need extends across an individual's lifetime, so does our framework, with different tests catering to each stage. Moreover, an individual can always come back to retake an assessment at any later time.
Given our very strong research basis and use of advanced analytics, you cannot go wrong by taking one of our test for career guidance after Class 8th, Class 9th - 10th and class 11th or 12th. Refer to the career tests toolbox for a gamut of other career, personality and aptitude tests